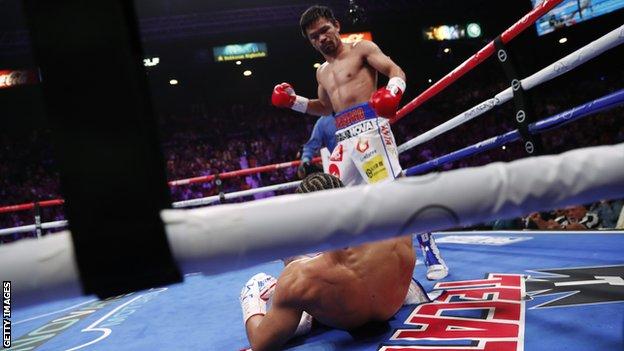 Manny Pacquiao beats Thurman to become the oldest welterweight world champion – at 40.
I woke up to seeing this in the BBC news feed, and loved it! I have (at one time) followed Manny religiously and have been blown away by his sheer simplicity and competitiveness – a relatively uncommon combination but definitely a lit dynamite for performance.
The canvas of performance is often perceived as a tightrope execution of all that one brings to the table – the gigantic attempt of a gladiator to rule the day, the enormous labor of mind – sharpened to compete and of course, to win, like Manny at 40.
Performance psychology is a movement towards self-improvement, that starts with acknowledging that improvement begins with preparing the mind to act and winning, while in action, is based in self-awareness and discipline.
The key to peak performance is effective task management. He who acts, shall win! But if a task is to be performed, what is there to manage? The answer lies in the revised dictum – He who acts 'purposefully', shall win! Unless an action becomes purposeful and disciplined, it leads to delayed results and often frustration. This purpose is why one does what he does, or doesn't. Purpose is deeper and more meaningful than just a desire to win.
Performance is often linked with sports. It is related to skill, stamina and spirit. What lies though at the heart of that performance is purpose. Why did the sportsperson not give-up? What took them to keep fighting? We watch a game of multiple circuits, but the player plays in the moment, every moment. Purpose lies in standing in that moment. It does not lie in solely visualizing the victory, because loss can then lead to disappointment and self-doubt. It is not in chanting your own cheers, because you may meet an opponent who you know is better than you. It is not only in believing that you can but it lies in proving that to yourself by doing it in front of your own eyes. It is not in dreaming about the extraordinary but it lies in doing the ordinary with purpose everyday, consistently.
The simplicity with which Manny stays disciplined to his craft goes to show the results of consistently focusing on the ordinary and identifying purpose in every moment of action. That purposeful action leads to results and impact that defy any extraordinary approach to performance improvement.
Are you still looking for your extraordinary?